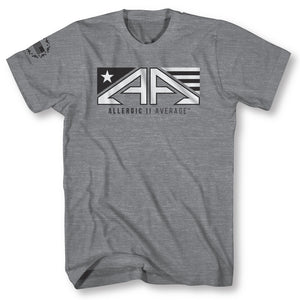 1st Responder - 2.0 Frontline Tee
Sale price Price $ 30.00 Regular price $ 32.00
Honoring Our Allergic II Average Heroes, Past and Present 
This tee is a tribute to the heroes of 9/11/01 and the Frontline Warriors who serve us today.
At Allergic II Average, we stand for more than just clothes or fashion; we stand for a mindset movement. Our journey has been all about breaking boundaries, embracing the grind, and celebrating the power of love. And on this special 9/11 Patriot Day, we're thrilled to introduce the 2.0 Frontline Tee - a symbol of our unwavering respect and gratitude for those who've devoted their lives to protecting us. Let us remember the brave souls who risked everything to protect us during one of the darkest days in history, while we also celebrate the modern heroes who continue to stand on the frontline, defending us in the face of chaos.
Presale Details: Presale is valid thru 9/11-9/15/23. After 9/15 presale officially ends and we will begin mass producing all Frontline tees. Expected shipping date to you will be between 9/28-9/29/23. This is not a guaranteed date, but most likely timeframe. 
SHIRT DETALS:
Sizing/Color - Unisex / Warm Gray 
60% Polyester / 40% Cotten 

Hangdry Recommended
Red: Firefighters
White: Paramedics, EMT, and EMS
Blue: Law Enforcement
Yellow: Dispatchers