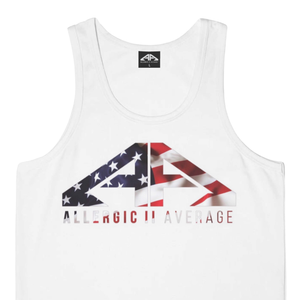 AIIA S.S. Tank
Sale price Price $ 32.00 Regular price $ 32.00
AIIA X USA Line
L I M I T E D   E D I T I O N
Intoducing our very first piece from our NEW AIIA X USA Line. Custom fit and material blend. This is a premium tank that is a must have. 
Tank Details:
Cut & Sew 
Smaller Sizing 
AIIA woven label tag
Vinyl front print
Premium 100% Ring-spun cotton
Lightweight fit 
We don't live in an average country. In fact, we live in the GREATEST country this world has to offer. Without individuals with the mindset of thinking different we wouldn't have the sacrifice, bravery and grace it takes to keep us from the path of average. Our great USA is built from those Allergic to the Average. With that we want to celebrate those who have contributed to the greatness of this country and at the same time honor the diversity we obtain that makes us UNITED.